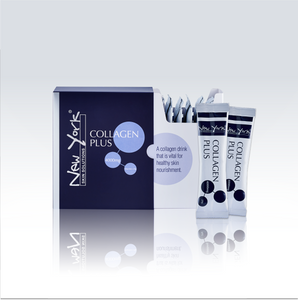 COLLAGEN PLUS 773 4000MG (20G X 10'S) [NY773S-5]
With 4000mg of Hydrolyzed Marine Collagen, this dietary supplement deeply hydrates, nourishes and replenishes collagen stores for a more supple, smoother skin texture.
How To Use
When To Use
1 - 2 times per day
Day & Night
Main Ingredients
Grape Seed Extract
Helps in protecting cells from free radical damage such as cellular oxidation and ageing.
Inulin
A prebiotic that promotes growth of good bacteria in our colon, thus improving digestion and decreasing the amount of toxins in our body. When there's less toxin, the skin will become healthier and brighter.
Hydrolyzed Marine Collagen
Boosts collagen level, leaving the skin feeling supple
Full Ingredient List
Blackcurrant Juice Powder, Hydrolyzed Marine Collagen, Inulin, Vitamin C, Grape Seed Extract, Permitted Fruity Flavor, Stevia.