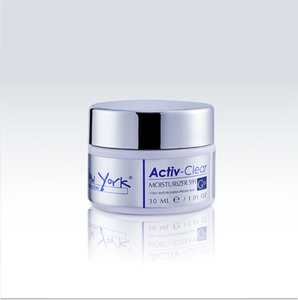 ACTIV-CLEAR MOISTURIZER 591 30ML [NY591S-0]
A non-greasy moisturizer that provides soothing hydration that won't clog pores or cause breakouts. Provides light hydration and visibly corrects issues unique to acne-prone skin.
How To Use

When To Use
Twice per day
Day & Night
Main Ingredients
Squalane
Derived from olive oil. Protects, rejuvenates and moisturizes the skin.
Jojoba Oil
Similar to skin's own sebum which is as effective as a skin conditioning emollient. Helps to reduce trans-epidermal water loss and restores smoothness, suppleness and softness to skin.
Tocopherol (Vitamin E)
A powerful antioxidant that neutralizes free radicals and improves the moisture barrier of the skin.
Full Ingredient List
Aqua, Propylene Glycol, Glycerin, Squalane, Synthetic Jojoba Oil, Stearyl Alcohol, Steareth-2, Steareth-21, Hydrolyzed Collagen, Dimethicone, Tocopherol, Phenoxyethanol, Hyaluronic Acid, Allantoin.