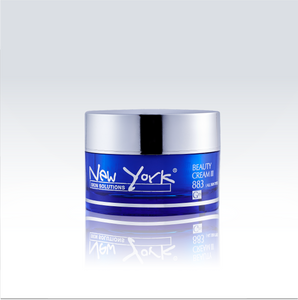 BEAUTY CREAM III 883 30ML [NY883S-2]
This moisturizing cream delivers an intense dose of hydration, suitable to use as both day and night time moisturizer.
How To Use
When To Use
1 - 2 times per day
Day & Night
Main Ingredients
Squalane:
Extracted from olives which is compatible with the human skin. Thus, it has the ability to lock the skin moisture, strengthen the skin tissue and promote skin cells renewal.
Jojoba Oil
It has the ability to enhance tne skin's natural suppleness and elasticity and prevents the skin from being dehydrated by acting as a non-occlusive emollient maintaining the moisture level in the skin.
Hydrolyzed Collagen
It helps the skin to retain moisture and increases the skin's firmness and elasticity.
Full Ingredient List
Aqua, Squalane, Glycerin, Butylene Glycol, Caprylic/Capric Triglyceride, Synthetic Jojoba Oil, Stearyl Alcohol, Hydrolyzed Collagen, Methyl Glucose Sesquistearate, Glyceryl Stearate SE, Dimethicone, Methyl Glucose Sesquioleate, Tocopherol, Sodium Carbomer, Phenoxyethanol, Allantoin, Fragrance, Hyaluronic Acid.